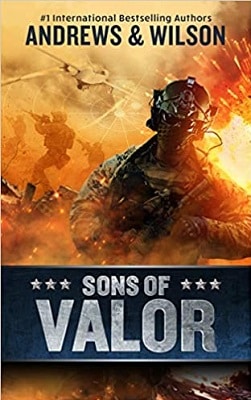 The name Andrews and Wilson in the military thriller world has a certain gravitas to it. This dynamic writing team has made a name for themselves in the highly popular Tier One novel series with the stalwart John Dempsey at the helm.
Within that series, we are introduced to Lieutenant Keith "Chunk" Redman. Chunk endeared himself to the Tier One universe to such a degree that Andrews and Wilson created an off-shoot series revolving solely around this colorful character. In Sons of Valor Chunk is now a Lieutenant Commander on the verge of the biggest mission of his career.
Chunk has been tasked to lead a new Tier One team, smaller and leaner than its predecessor. Taking lessons from the first Tier One novel, Chunk will head this new "tip of the spear" through this next vital mission that will put America in the crosshairs.
With him, Whitney Watts—a brilliant ex-CIA intelligence analyst who can parse mission-critical details within a sea of information. While familiarizing herself with past mission data, Whitney stumbles across an earthshattering discovery that could tip the scale on the War on Terror. A new breed of terrorist—sophisticated and tech-savvy—is bent on inflicting mass damage. Can Whitney match her intellect against this new class of terrorists before it's too late?
Readers have come to expect blistering action sequences and meticulous storytelling from the Andrews and Wilson team. Sons of Valor delivered. I highly enjoyed this novel because the threat the characters faced was one I have yet to come across in military thrillers. We delve into a very technical discipline throughout the novel, and I was able to keep up and visualize what was happening the entire time.
The pairing of Chunk and Watts is highly entertaining. Each character is strong individually, but together they produce delightful dialogue and a treat for fans of military action. If you are an established Andrews and Wilson fan you will enjoy Sons of Valor. If you are new to this author team (or looking for that next binge-worthy read) Sons of Valor is the way to go.
He must find a way to repay the debt of honor while stopping World War III
read more