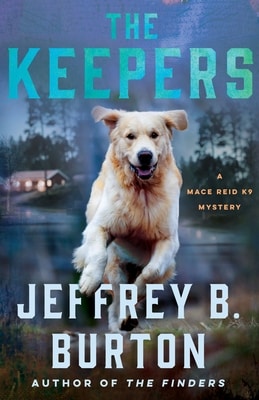 The Keepers by Jeffrey B. Burton is the second book in the Mace Reid K-9 Mystery series.  Sometimes second books in a series can be a let-down, but that's not the case here. Burton has increased the potency in this novel and managed to seamlessly combine an amateur sleuth mystery with a police procedural that also highlights relationships between dogs and people.
Mason (Mace) Reid lives outside of Chicago and trains dogs with various end goals such as obedience and missing persons tracking, as well as searching for drugs and explosives. However, his specialty is training dogs in human remains detection (HRD or cadaver dogs). He is often called in to help the Chicago Police Department and local sheriff's departments. Little did he know that when he and his golden retriever, Vira, are called in to search Washington Park that their lives are about to change. Vira seems to have an uncanny ability that borders on the paranormal in her ability to locate not just the dead bodies, but also their murderers.
Mace is a compelling and well-developed character with flaws that have led to a divorce and a job change. It was great to see some of the secondary characters show up again in this book and gain some depth. Additionally, the canines have been well-developed and their personalities came through as the story progress. They aren't just an afterthought, but play important roles in the series. It was also great to see the relationship between Mace and Kippy develop.
The writing style is engaging, but also has an intensity to it that kept me turning the pages. At the same time, there were moments of humor that elevated the book and made Mace and his dogs come to life for me.
This story is complicated and has multiple subplots, but it's never confusing. The overall plot was clever and kept me engrossed in the tale. Its twists and turns led to a dramatic conclusion. Like in book one, the bonds between Mace and his five dogs are the highlights of the book. Themes include murder, corruption, trust, and relationships between dogs and people as well as between people.
Overall, this was an entertaining novel and a great addition to the series. I look forward to the next book and I want to read this author's FBI Special Agent Drew Cady mystery series starting with The Chessman. If you enjoy books where special animals play a role in a mixed genre novel, then this may be the next series for you.
Thanks to St. Martin's Press – Minotaur Books and Jeffrey B. Burton for an ARC of this novel via NetGalley and the opportunity to provide an honest review. Opinions are mine alone and are not biased in any way. Publication date is currently set for June 29, 2021.
More Amateur Sleuth Mysteries
An archivist is found dead of an apparent drowning
read more