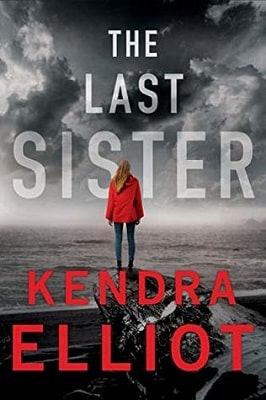 The Last Sister by Kendra Elliot brings mystery and suspense to a police procedural and romantic suspense novel set in Bartonville, Oregon. This is the first book in the Columbia River series but brings in characters from other series as well.
Emily Mills' father was murdered twenty years ago, which was when she found his body hanging from a tree in the backyard. Since then, she has tried to forget everything about that night. However, when a similar murder occurs in contemporary times, and Emily finds another body, her life is about to change. Are the deaths related? If so, how and why?
Our protagonists, FBI Special Agent Zander Wells and Emily Mills, bring an interesting dynamic to this novel. Despite Emily being a witness, there is an attraction between them. How will it affect the case? Emily is resilient, but she wants to protect her family, and she has secrets to keep too. Zander is a dedicated FBI agent and has a heartbreaking backstory. Great characters tend to develop from the ups and downs of life, and Zander and Emily emerge as believable characters with some shortcomings, just like real people.
The plot is suspenseful and complex, and there are a multitude of conflicts to keep the reader engaged in the story, including Emily's inner conflicts, motivations, and personality. Plot twists and turns abound, with a few surprises along the way. A consistent pace from scene to scene—until the action-packed ending, where the subplots tied together—had this reviewer quickly turning the pages.
The romantic parts take a backseat and don't detract from the story. This is not an instant-love type of romantic suspense, but a slow building of respect and attraction. The author did a great job of world-building, too, with vivid descriptions and a clear sense of place. The reader will feel like they're on the Oregon coast experiencing the vagaries of the weather and small town attitudes.
Overall, this is a compelling crime thriller that tackles some very serious issues ranging from murder, secrets, and family relationships to racism, drugs, and much more. This is the first book I have read by Kendra Elliott, but I am happy to say that I own five others and can't wait to read them. If you enjoy crime novels and police procedurals set in a small town with a small amount of romance, then I recommend that you check out this series.
I purchased a digital copy of this novel. Opinions expressed in this review are completely my own and are not biased in any way. Publication date was January 14, 2020.
More Police Procedural Reviews
A London gangster brings terror and murder to Bath
read more