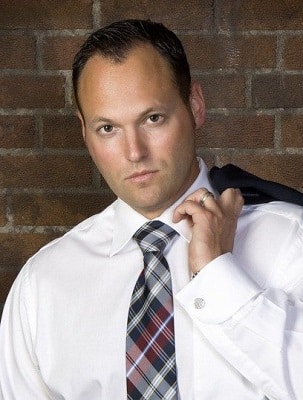 Simon Gervais is a New York Times and #1 Amazon bestselling author. He's a former federal agent specialized in protective operations and counterterrorism. Simon spent nearly twenty years in the military and in law enforcement. His assignments took him all over Europe and the Middle East.
Q. Your extensive career includes service in the Canadian military, a federal drug investigator, and an agent on an anti-terrorism unit. Of all this diverse experience what do you draw from most in writing military thrillers? 
Simon: My years as an infantry officer certainly help me understand how the military works, but because I left the military just before 9/11, the advanced tactics I learned in the military in the late nineties are now obsolete. The war in Afghanistan changed everything. That said, I'm very comfortable with the basics. Combat patrols, defensive positions, long-range reconnaissance and winter warfare are all subjects I'm quite familiar with.
If I had to pick, I'd say that I'm drawing much more from my years with the Royal Canadian Mounted Police than from my time in the military. My RCMP career was phenomenal and I was lucky enough to serve within the most exciting and secretive units of the organization. The training I received—especially while serving with the antiterrorism unit—was top-notch. We cross-trained with some of the most elite units in the world, including the French GIGN and components of the Israeli Defense Forces.
Q. Hunt Them Down was a #1 amazon bestseller. What was it about this book, and the Pierce Hunt series, that resonates with readers?
Simon: Contrary to many international thrillers, Hunt Them Down is all about personal stakes. Pierce Hunt —the protagonist— isn't trying to save the world; he's trying to rescue his daughter who was mistakenly kidnapped by the sadistic leader of a Mexican drug cartel. I think that the fact that the main antagonist is a badass female and not some sort of ex-military type makes it fresh and helps the book differentiate itself from the pack. I believe that developing secondary characters is also vital. This is something I spent a lot of time on while writing this series.
Reviewers have mentioned to me that they enjoyed the relentless pacing of the three books in the Pierce Hunt series. I do my best to end every chapter with a mini-cliffhanger and I try to keep my books short, around 75,000 to 80,000 words. I want the plot to be direct but with enough layers to create suspense.
Q. You've worked as a close-protection specialist tasked with guarding foreign heads of state visiting Canada. What have you pulled from that experience into your writing? Have any salacious stories sprung from that?
Simon: Salacious stories? I could probably write a book about them — but I'd never break privilege. The truth is that I didn't draw much from my time as a close protection officer to write the Pierce Hunt series. Hunt was a DEA special agent so I used my knowledge of international drug investigations to really flesh out his character.
But if you were to ask me the same question in regard to my new Clayton White series, I'd have a very different answer. Clayton White is a Secret Service special agent assigned to the protection detail of the vice-president elect. The Last Protector, which will be published by Thomas and Mercer in November 2021, is the first book in which I really used my experience as a former close protection officer to help me create a memorable protagonist.  
Q. If Pierce Hunt had to go into combat with another thriller writer's protagonist, who would you want watching his back?
Simon: There are a few. I've always been a huge fan of Jason Bourne. Robert Ludlum's books are the reason why I fell in love with literature. My friend Mark Greaney's Court Gentry is also formidable, and so is Brad Thor's Scot Harvath.
Q. What are you working on now?
Simon: I've just started working on the next Clayton White thriller. I honestly can't wait for my fans to read The Last Protector. 
When the CIA calls on former Army Ranger Pierce Hunt to find a missing operative and friend, the last thing he wants to do is leave the peace of home and family behind. But there's more to this mission than meets the eye, and Hunt knows he has no choice but to risk everything to save his friend and protect his country.
Hunt's target is Jorge Ramirez, who allegedly has information that poses a threat to the national security of the United States. As Hunt tracks Ramirez in Switzerland, he learns that someone close to his operation has betrayed the CIA. His team is attacked, and not everyone makes it out alive.
Facing betrayal on an international scale, Hunt doesn't know who to trust. The rules of engagement have changed, and the body count is rising. Will he find out the truth in time, or will this be Hunt's final mission?
More Action Thriller Authors
The bestselling author on COLD SNAP and more
read more