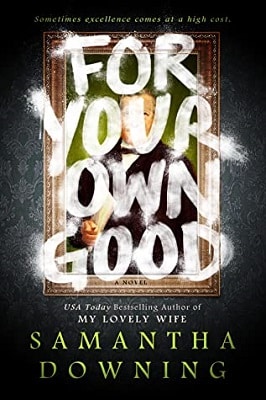 reviewed by Chelsea Aguilera
Teddy is, above all else, a good teacher. He is teacher of the year after all.
Teddy will do anything he can to protect his students at the prestigious private school he works at. He knows that his wife is proud of him and it doesn't matter that other teachers have been there longer than him. It doesn't matter that he didn't attend a private school growing up and that no one seems to appreciate him for everything he does.
In For Your Own Good, Samantha Downing compiles a cast of interesting characters, all with secrets to hide. First, there is Zach, a senior at the elite Belmont Academy. He has overbearing parents who work in law and finance, and expect nothing but the best from their son. From scheduling family dinners to meeting with teachers to raise a B+ to an A, Zach's parents are highly strung and have even higher expectations.
Next there is Courtney, yearbook editor and strong-willed perfectionist. Her mother is the head of the PTA and won't hear of Courtney attending anywhere but Yale. Courtney just wants the freedom to make her own decisions and sometimes she feels like she is about to snap.
Then there is Sonja, or Mrs. B as her students call her. Sonja is friendly, helpful, and beloved by all…but is she really? Below that polished exterior, there is a woman who aches for attention and wants to be noticed by all.
Then there is a death at Belmont, and no one knows who to trust.
In Downing's third book, she explores the tension that comes with attending a top-notch private school. Each and every character is dynamic and captivating, grabbing your attention from the very beginning. I loved not knowing where the book was going or who I could trust. The private school setting is always interesting to me, and layered with the personal lives of many characters, it was a great combination.
Downing always has the ability to take a simple premise and weave it into a story full of twists, turns, and shocking surprises. Just when you think you know how the book will end, another detail changes your perspective on the whole story. For Your Own Good takes the reader on a twisted journey, ending, as all her books do, with pure satisfaction.
I can't wait to see the next book Samantha Downing comes up with, because I already know it will be fantastic. If you are a fan of the prep school setting, a good twist, or a completely original story, this one's for you!
Thank you to Berkley, Samantha Downing, and NetGalley for my ARC of this book. Opinions are my own. For Your Own Good comes out on July 20, 2021.