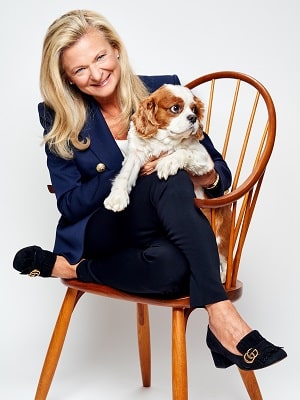 Lisa Scottoline is a #1 Bestselling Author, The New York Times bestselling author and Edgar award-winning author of 33 novels, including her latest work, Eternal, which is coming March 23, 2021, her first-ever historical novel. She also writes a weekly column with her daughter Francesca Serritella for the Philadelphia Inquirer titled "Chick Wit" which is a witty and fun take on life from a woman's perspective.
Q. Eternal, your latest historical suspense blockbuster, is coming out March 23, 2021. For readers who haven't had a chance to grab it yet, what's it about?
Lisa: Thank you so much for saying so, and I'm super excited about Eternal. Its inspiration goes back some 40 years, believe it or not, which makes me sound both really old and also like I procrastinate, LOL. But way back when I was in college, I was lucky enough to take a seminar with the late great Philip Roth, and it was amazing. There were only 15 students in the class, and he introduced me to the work of Primo Levi, an Italian Jewish chemist who opposed Italian fascism leading up to World War II, was captured by the Nazis and sent to Auschwitz, but lived to write an amazing memoir, If This is a Man.
From then on, I was fascinated by the Italian fascist period, the effects it had on everyday people, why so many bought in and so many didn't, and this fantastic interplay between law, justice, and family. Like, what happens when the laws not only permit discrimination, but mandate it? It really turns a concept of justice on its head, and I felt that was fascinating, but I really wanted to examine it not at the abstract academic level but on a personal level, at the family level, and how that view of justice, or sanctioned injustice, affects the lives of everyday people. While I was doing the research for the novel, I learned about an event that took place in Rome in 1943, that was really shocking but not well-known outside the historical scholarship, and I said, that is a story that deserves to be told. And all of that is in Eternal.
Q. Famously, you've said secondhand experiences aren't good enough when it comes to your research; that you want to experience what your characters will feel. How did you accomplish that for Eternal?
Lisa: I do like to experience almost everything my characters do, and obviously for historical fiction, that has some limitations, but actually fewer than you think.
For example, a critical set piece in Eternal took place in October 1943, so I went to Rome exactly the same time of year and did my research there. It really opened my eyes in many ways gave me lots of realistic details for the novel that I wouldn't have otherwise. I wanted to learn what flowers bloomed then, what the light looks like, and all of those granular facts, and at the same time, I was there during the 75th anniversary of the historical event I was writing about, so I was able to talk to people, attend events, and get invitations to private memorials that I wouldn't have otherwise.
But the central message of the novel is truly eternal, I hope, because ultimately what you're doing is plumbing human emotions to create a compelling narrative, and that's something that I've always done in novels before. Anybody who likes anything I've written will love Eternal and will recognize it as a natural progression in many ways, though the themes I'm dealing with in it are writ larger than ever before.
Q. You and your daughter, Francesca Serritella, have reportedly been quarantining together through the pandemic. How is having another writer in the house affecting what you're writing and reading?
Lisa: I love quarantining with my wonderful daughter, who just published her debut novel last year, entitled Ghosts of Harvard, which is terrific. She lives in New York City, but we are both home now quarantining and working on first drafts of our next novels, so there's no one better to hang with. We keep ourselves laughing, baking cookies, and working, and she even keeps the home fires burning, because she finds that making a fire in the fireplace is her Zen approach to thinking about her novel, and I just love having a fire.
I know we both feel very lucky to have jobs we love and to be able to do them at home, because if this pandemic doesn't give you perspective, then nothing will. I have always counted my blessings and I feel so grateful to so many front-line workers who have been doing so much for a year now, to help keep us all healthy, safe, and alive. With their help, we will all get through this together, and with vaccinations on the horizon, I feel more hopeful than I have before.
Q. Speaking of reading, have you read anything good lately?
Lisa: I do find that I'm reading more during the pandemic, but I've always loved reading. Obviously, I'm online is much as anybody else, and I waste hours doom-scrolling and watching videos of otters swimming and baby elephants trying to stand up. But reading is the thing that centers me, calms me down, and focuses me. I wish we thought of reading is more like self-care. We can convince people to get on an exercise bicycle for 20 minutes, but we can't convince them to read for 20 minutes, and I think that reading is equally beneficial if not more so.
I'm not reading any differently than I ever did before, because you can lose yourself in any well-written book, and I'm loving so many authors these days. I'm on a historical fiction tear because of Eternal, and I'm loving Chris Bohjalian, Elsa Morante, Elena Ferrante, Mark Sullivan, Lisa Wingate, Lisa See, Paula McLain, Kristin Hannah, Martha Hall Kelly, Karen Robards, Christina Baker Klein, Adriana Trigiani, Pam Jenoff, Fiona Davis and Delia Owens. Also, I'm a huge fan of David Baldacci, who though he is thought of as a thriller writer, has written a really terrific historical fiction. For mysteries and thrillers some of my regular go-to authors are Harlan Coben, Sandra Brown, Janet Evanovich, Lisa Gardner, Mary Kay Andrews and there's so many others, so please forgive if I forgotten some.
Q. What are you working on now?
Lisa: I am working on my next domestic thriller, and in the future, I hope to be able to write historical fiction, domestic thrillers, and Rosato & DiNunzio series! And I still have a Sunday humor column for the Philadelphia Inquirer, which anybody can read on my Facebook page every Sunday morning. I know how lucky I am to be able to write for a living, and I'm going to keep on keeping on!
Eternal
Elisabetta, Marco, and Sandro grow up as the best of friends despite their differences. Elisabetta is a feisty beauty who dreams of becoming a novelist; Marco the brash and athletic son in a family of professional cyclists; and Sandro a Jewish mathematics prodigy, kind-hearted and thoughtful, the son of a lawyer and a doctor. Their friendship blossoms to love, with both Sandro and Marco hoping to win Elisabetta's heart. But in the autumn of 1937, all of that begins to change as Mussolini asserts his power, aligning Italy's Fascists with Hitler's Nazis and altering the very laws that govern Rome. In time, everything that the three hold dear–their families, their homes, and their connection to one another–is tested in ways they never could have imagined.
As anti-Semitism takes legal root and World War II erupts, the threesome realizes that Mussolini was only the beginning. The Nazis invade Rome, and with their occupation come new atrocities against the city's Jews, culminating in a final, horrific betrayal. Against this backdrop, the intertwined fates of Elisabetta, Marco, Sandro, and their families will be decided, in a heartbreaking story of both the best and the worst that the world has to offer.