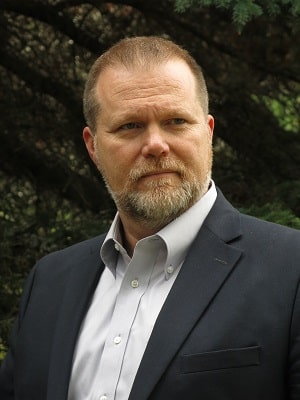 A native of Texas, Marc Cameron is a retired Chief Deputy US Marshal who spent nearly thirty years in law enforcement. His assignments have taken him from rural Alaska to Manhattan, from Canada to Mexico and points in between. A second degree black belt in jujitsu, he often teaches defensive tactics to other law enforcement agencies and civilian groups. Cameron lives in Alaska with his wife and BMW motorcycle.
Q. Bone Rattle, the third in the Arliss Cutter series, comes out on April 27. What's in store for the Deputy US Marshal at the heart of this story?
Marc: Bone Rattle finds Arliss and Lola working in and around Juneau to assist with a sequestered jury during a high-threat drug trial in federal court. The story follows a Tlingit rattle made of horn and bone that was recently unearthed during road excavation to a gold mine in the mountains of the Tongas National Forest. Not only is this bone rattle worth a fortune, the archeological significance of its discovery could halt development of what looks to be an extremely rich gold mine. There's murder, prejudice, crooked politicians, man-tracking, and wilderness adventure. Juneau was built on mining and literally sits atop the guts of the mountains that surround it. A good portion of the story takes place deep underground in miles and miles of abandoned shafts and tunnels. Like much of the state, Alaska's capitol city is accessible only by air and sea, making reinforcements slow to arrive.
Q. You worked as the deputy U.S. marshal in charge of Alaska's fugitive task force. How has that experience shaped your writing?
Marc: Each Arliss Cutter story includes a taste of the various work deputy U.S. marshals do every day. Fugitive apprehension is probably the "sexiest" duty, and certainly the one we're most known for.  In Open Carry, the story revolves around looking for a fugitive. In Stone Cross, there's a hunt for a bad guy, but the central duty is judicial protection. In Bone Rattle, it's working a sequestered jury. In Cold Snap (next year's Cutter) it's prisoner transport. One of the things I enjoyed most about being a deputy US marshal was the diversity of our job. One day we might be hooking and hauling prisoners to court/jail, the next might see us in Florida helping out after a major hurricane, in New York protecting a federal judge who's been threatened, seizing 30,000 pounds of illegally caught cod on the Bering Sea, snow machining across the tundra after some fugitive, or tracking a lost sheep hunter in the mountains above Anchorage—all events I participated in while I was a deputy.  The mission of the US Marshals Service is so broad that there is no end to the cases Cutter and his team can be involved in. Of course, in all the stories, he and Lola Teariki are drawn into some other mystery/murder while on the primary assignment.  Doing the job for a couple of decades certainly helped give me plenty of grist for the mill.
Q. You were selected to take up Tom Clancy's mantle in continuation of the Jack Ryan series. How did that happen? What was your reaction when you learned you were going to be filling those shoes?
Marc: I've been friends with Mark Greaney since we met at a Bouchercon in Long Beach several years ago. At that time he was writing the Jack Ryan novels. At a subsequent conference, I think New Orleans, he offered to read my work in progress and give me a cover quote. I hate asking for cover quotes because I know how busy writers are, so I was elated to get one from a writer whom I respected so much. I sent him a PDF and he gave me a nice quote. Unbeknownst to me, he'd decided to step away from the Jack Ryan novels to focus more on his own writing. He sent the manuscript to Tom Colgan, his Clancy editor, who called my agent, Robin Rue, and offered me the gig.
I was in the police academy when The Hunt for Red October came out and read it as soon as I got my hands on a copy. I read them all as they came out, buying Sum of All Fears three times. I left one copy on an airplane on my way to New York for a protection detail with Dept of State Diplomatic Security. The next copy got "borrowed" from the command post by a DS agent. I bought a third and kept it in my hotel room and then finished in on the flight home. I felt like I knew the Clancy characters/ universe pretty well, but I was still terrified when I got the call from Robin.
It's impossible to fill Tom Clancy's shoes, and I had the added burden of taking over from Mark Greaney who'd done a tremendous job with the franchise. Before I'd even written a word, I found myself with an angry mob of readers who were either upset that I was not Tom Clancy or that I was not Mark Greaney…
Tom Colgan is a terrific editor though. He's talked me off the ledge many times.
Q. What do you like to read?
Marc: I read most of my friends' work, but not while I'm writing something similar—IE, no military thrillers while I'm working on a Clancy or Jericho, and no crime fiction while I'm working on a Cutter.
I love research and spend most of my time with my nose buried in nonfiction books and periodicals. I'll read anything Erik Larson writes, and just finished The Splendid and the Vile. My go-to writers for when I want to rest my brain are Kipling and Norman Maclean. I have a copy of Kim and A River Runs Through It on my desk almost all the time.  
Q. What are you working on now?
Marc: Cold Snap ( Arliss Cutter #4) is in to my editor and I'm knee deep in Tom Clancy Chain of Command, my fifth Jack Ryan effort. It's a fun one to write. After that, another Jericho novella, another Cutter, and…
Bone Rattle
In the icy heart of Alaska, a series of gruesome murders leads Deputy US Marshal Arliss Cutter into a firestorm of searing corruption, clashing cultures, and bone-chilling fear…
In Juneau, a young Native archeologist is sent to protect the ancient burial sites uncovered by an Alaskan gold mining company. He never returns.
In Anchorage, a female torso—minus head, hands, and feet—is washed ashore near a jogging trail by the airport. It is not the first.
At Alaska's Fugitive Task Force, Arliss Cutter and deputy Lola Teariki are pulled from their duties and sent to a federal court in Juneau. Instead of tracking dangerous fugitives, Cutter and Lola will be keeping track of sequestered jurors in a high-profile trial. The case involves a massive drug conspiracy with ties to a mining company, a lobbyist, and two state senators. When a prosecuting attorney is murdered—and a reporter viciously attacked—Cutter realizes they're dealing with something much bigger, and darker, than a simple drug trial. The truth lies deep within the ancient sites and precious mines of this isolated land—and inside the cold hearts of those would kill to hide its secrets…
What's buried in Alaska stays in Alaska.