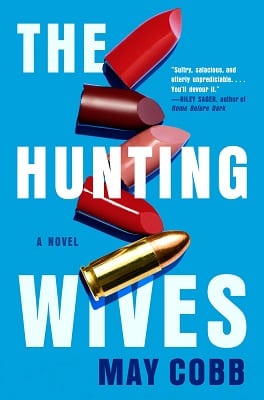 With friends like these, who needs enemies?
That's my takeaway after reading this. That, and I'm glad I don't know anyone like the characters in this spicy little thriller.
Sophie O'Neill and her husband and young son, originally from Chicago, are new to a small town in Texas. It was time for the family to get away from the hustle and bustle of suburbia. However, Sophie quickly finds herself bored. When she happens to come across the Facebook profile of socialite Margot Banks, she is preoccupied by the thought of befriending her.
Sophie finally gets a chance to meet Margot and her elite friends at a fundraiser, and finds out that they are members of a covert group called, the Hunting Wives. Each Friday, the women shoot skeet and drink heavily. During Sophie's first shooting session with her new "friends," she realizes that the women like to "hunt" other things as well. When they're on the prowl, no man is safe from their charms.
It's all fun and games (and a bit scandalous to Sophie) until things take a turn for the worse. When a girl is found dead at the location of their shooting sessions, Sophie finds herself right in the middle of the investigation. That is when the twists really start. Who can she trust? And why would someone murder this young lady?
This is a wicked, dark, and juicy thriller that hooked me from the very first page. The characters are definitely not very likable. Sophie, whose point of view we hear the story from, seems to have no clue how she got herself into such a messy situation…even though she is the one who puts herself there by making bad decision after bad decision. She's the kind of character you yell at while reading. "Don't do that!" "Oh, come on, Sophie! Use your brain!"
That also makes this a fun and compelling read, as the situations get worse and the twists continue. I was pleasantly surprised that I didn't guess the culprit. I was wrong more than once.
This is a fast-paced tale that ramps up pretty quickly. I hope everyone else who reads this has a fun time trying to keep up with the shenanigans as they guess who could be a murderer, and why. This is the first book I've read by author May Cobb, but it surely won't be my last.
Thank you to Berkley publishing, who provided me with an ARC in exchange for an honest review. This book is set to be published 5/18/21.
The dance becomes an affair, becomes a marriage, becomes a murder
read more