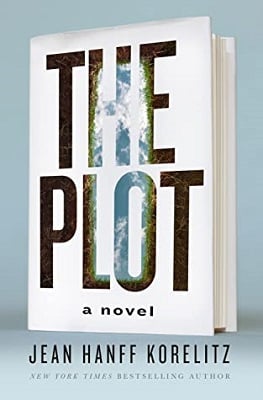 The Plot. It's a story with a double-entendre for a title, and a tale that simmers with suspense.
All Jacob (Jake) Finch Bonner ever wanted was to be a successful fiction author. He had a brief taste of success when his first novel, although not a runaway success, was named New and Noteworthy by the New York Times. His follow-up was a colossal failure, selling roughly 800 copies (200 of which Jake bought himself). He hasn't been able to publish since.
Currently, Jake finds himself teaching a lightly attended MFA program. It's a course for aspiring writers to work through and improve their work. One of the students, Evan Parker—cocky and arrogant beyond his years—insists he doesn't need any help with the work of fiction he's writing. He already knows it going to be a huge success. There is no doubt in his mind.
When Jake finally finds out what the plot of Evan's novel is, he can't help but agree.
So how come, a few years later, Jake hasn't heard anything more about Evan or this book that would be an instant success? Jake does some research and finds out Evan died a few years back, shortly after the writing course. Evan was very secretive about the details of his book's plot. If nobody knew about it, and the book hasn't been published…maybe Jake could write it instead. That would be wrong though. Wouldn't it?
Jake's book becomes an overnight success, spending week after week at #1 on the NYT bestsellers list. He is over the moon. Things couldn't be better for him. That is, until he receives a message from an anonymous person: "You are a thief."
I was intrigued from page one. This is a suspense-laden mystery that increases tension as Jake tries to figure out who sent him the message, and who may know the plot of Evan's never-published novel. There are some nice surprises, and while I ultimately guessed the culprit (out of sheer guessing), I didn't fathom the reasoning behind it. Author Jean Hanff Korelitz weaves together a great story, and although it's not fast-paced, it never loses steam.  A nice flow is important, and it's evident here.
Jack's novel is the kind of novel that has THAT moment…the one that shocks the reader and gets everyone talking (a la Gone Girl). While I didn't find that to be the case in Jack's novel, nor in this novel as a whole, I still enjoyed it and wasn't able to put the book down for long.
The Plot has a wicked conclusion that I wasn't expecting, but works effectively. If you like books where you're trying to figure out the puzzle pieces right along with the characters, then this one is for you.
Thank you to Macmillan, who provided me with a free ARC in exchange for an honest review.