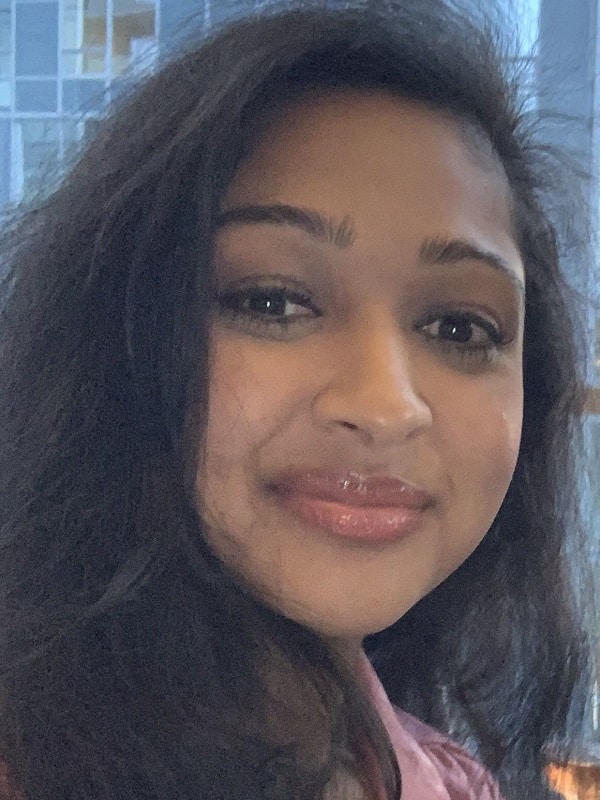 As an editor for Thomas & Mercer, Megha Parekh has a love for all things mystery, thriller, or suspense. Some of the authors currently on her list include New York Times bestselling authors Ian K. Smith, Lee Goldberg, and A. R. Torre, Wall Street Journal bestselling author Matthew Fitzsimmons, USA Today bestselling authors Debbie Herbert and Debra Webb, Washington Post and Amazon Charts bestselling authors Brianna Labuskes, Matthew Farrell, Lucinda Berry, Dea Poirier and Hilary Davidson, and Edgar-Award nominated author Victor Methos.
Q. How did you get into editing? Where did you start, and what has your career progression looked like?
Megha: I grew up in an immigrant family that thought you could only pick one of the following careers: doctor, engineer, or lawyer. But after I graduated from college I didn't want to work in those fields. I've always been a big reader, and one time while I was reading a book during my lunch break at a temporary gig, I thought: "wait, someone makes these!" I knew I wanted to be an editor because I wanted to be a part of crafting stories and bringing that joy to people. I landed a job in New York City as a romance editor at Grand Central Publishing, where I worked for five years. Working as a romance editor was one of the best jobs I've ever had. It not only taught me so much about editing genre fiction, it showed me just how much work authors put into editing and writing their stories. In 2017, I moved to Seattle to work on thrillers at Thomas & Mercer. I've always been a massive thriller reader and had a love for the genre, so moving over to thrillers didn't feel like a big shift to me. But now there's just a little more murder and a few less happily-ever-after endings.
Q. Working with well-known authors (Lee Goldberg, Elle Marr, Dr. Ian K Smith, and more) is something many of our readers might dream of. What are some of the benefits to editing your stable of talented writers?
Megha: First and foremost, I love great stories and storytellers. I've been lucky enough to work with some of the most talented authors, and help them the tell stories they've always dreamed of writing. I don't take that responsibility lightly, and it brings me endless joy. I try to keep my list as diverse in content and storytelling as possible. I find it most exciting when I'm sharing stories with readers that are unique and captivating. For example, Lee Goldberg's Eve Ronin series is police procedural, but it's also got Goldberg's signature witty humor and a Los Angeles flair that's unique to him. The next book in the series, Gated Prey, is out in October, and continues Eve's journey in the Lost Hills sheriff's department. And Elle Marr writes stories—like her latest thriller, Lies We Bury—that bring a fresh, much needed Asian American perspective to psychological suspense that the genre has been missing.
Q. What are some of the new trends in mystery and thriller fiction? What big trends are out the door?
Megha: Lately I've seen more books that appeal to a broader audience than just the standard genre conventions. For example, Victor Methos' A Killer's Wife blends together legal thriller, family drama, domestic suspense, psychological, and serial killer elements to create a story that packs an incredible punch. I've also seen more assassin thrillers lately, and even acquired an amazing one:  Her Name Is Knight by Yasmin Angoe. I've also seen more thrillers featuring Russia in the last year or so. People are still looking for books to be their escape, and having a great protagonist who is a bit grey in their morals but is constantly fighting for the greater good has really appealed to readers lately. Also, I've found that readers are currently less interested in political thrillers and thrillers involving a contagion or a widespread virus due to current events.
Lastly, it's always been really important to me to publish diverse voices, so it's been great to see our industry stepping up. We need newer and broader perspectives in classic thriller subcategories. It's something I've pushed for on my list for a long time, and it's been amazing to see so many diverse writers across genres industrywide being recognized for their talents.   
Q. Excitingly, Isabella Maldonado's The Cipher is being adapted for film starring Jennifer Lopez. What other developments are happening for Thomas & Mercer titles?
Megha: I'm so excited about The Cipher! The story is incredible, and I'm glad JLo agrees J. Maldonado herself was a police Captain and brings her law enforcement expertise to her novels. The next book in the series, A Different Dawn, releases in August, and I can't wait for readers to see more of FBI Special Agent Nina Guerrera.
Yasmin Angoe's debut, Her Name Is Knight, which releases in November, was also recently optioned for television. It's a searing espionage thriller featuring protagonist Nena Knight, an elite international assassin seeking justice for her slain family and scorched village back in Ghana. The story takes place between Africa and the US, and blew me away when I first read it. In my opinion, Nena Knight is the Black female Jason Bourne readers need.
Q. What are you working on now?
Megha: I recently got the advance copy of the upcoming release Constance by Matthew Fitzsimmons. I had so much fun editing this one! It's an incredible speculative thriller that takes place in a near future where humans have clones. The main character, Constance, wakes up as her clone, and discovers that the only way to save her life is to solve her own murder.
I'm about to start working on Kismet, a thriller from former fashion writer and editor Amina Akhtar. It's a satirical, psychological thriller set in the lucrative and very white wellness community of Sedona, Arizona, where a Desi woman discovers someone is killing fake wellness gurus. As a South Asian American, I couldn't be more thrilled to publish Amina's work and hope that I'll be able to publish many more books from South Asian writers. This novel gripped me from the start, and I cannot wait for people to read it next summer.
More Mysteries and Thrillers