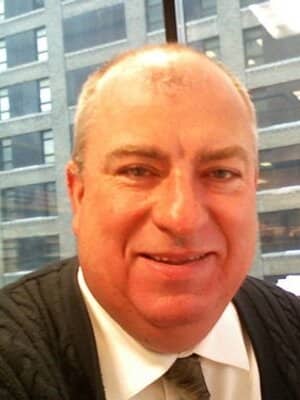 Tom Colgan is the Vice President, Editorial Director at Berkley/Penguin Random House. His career started at Berkley in 1985, after which he spent six years at Avon/Morrow. He returned to Berkley as an Executive Editor in 1996. 
Q. Over your career you've worked with beloved authors including Ed McBain, Janet Evanovich, Lee Child, Tom Clancy, Marc Cameron, Mark Greaney, Don Bentley, and more. What are some of your favorite projects/titles of all time?
Tom: That is a hard question. I've literally edited hundreds, if not thousands of books over the years. It's really hard to pick favorites out of that. Can I give you a list that's 500 books long? No? Ok, then here's a very, very incomplete list. 
The Gray Man by Mark Greaney. I knew there was something special about this series and this author as soon as I read this manuscript. More than a decade later, I'm pretty sure I was right. 
Hardcore Twenty-Four by Janet Evanovich. Working with Janet will always be a highlight of my career, but the greatest moment of all was when she liked my flap copy! Imagine THE Janet Evanovich thinking your writing was amusing! That was an incredible feeling. 
Dead or Alive by Tom Clancy and Grant Blackwood. My first book as Tom's hardcover editor. It was a blast to work with him on this book and subsequent ones. 
Sentenced to Death by Lorna Barrett. This is the first entry in the Booktown cozy mystery series. I came up with the bare bones of the idea, the town, the protagonist, but Lorraine Bartlett, writing as Lorna Barrett, took charge and made it into a New York Times bestselling series. 
Dead, Bath and Beyond by Lorraine Bartlett. Usually, Lorraine creates her own terrific titles, but when this story stumped her, I came up with this one. To date, it's my crowning title achievement. 

Q. Is there anything that hit your rejection pile you wish you could have another go at?
Tom: Nope. I know there are books that I missed on, but I have no regrets about them. I have enough self-doubt. If I started thinking about the books I passed on, my career would die of analysis paralysis. I'm wrong as often as I'm right. (At least, I try to convince myself I am. It's probably more like 60/40.) What really hurts are the great books we do publish that don't work. I'd love to be able to travel the country selling them out of the back of my car until I can reach a critical mass of readers who know what they are missing. 
Q. What are some of the trends in the thriller category?
Tom: I don't believe in trends. The only trend is good writing. Right now, I would tell writers to avoid COVID stories. Who wants to read about quarantine? We've been living it for a year. But someone will come along and write something amazing which will cause all of us to start clamoring for COVID thrillers. It just takes the right author with the right approach. 
Q. No doubt you've read thousands of manuscripts over your career. What makes a story stand out to you?

Tom: I'm always looking for a new approach. I like to say, "The same but different." Here's a very old example, One Police Plaza by William Caunitz was a terrific police procedural written by a former NYPD lieutenant. It's starts as a typical murder investigation, but it takes a sharp turn towards the end of the book that makes it unforgettable. 
More recently, I would point to I am Pilgrim by Terry Hayes. It's a sophisticated thriller, but there's an unexpected family dynamic to the story that really makes the book stand out. 
Q. Your "Journal of the Plague" (now with more than 450 entries) is widely popular on Twitter, even outside the writing community. What did you envision when you started writing it?

Tom: Widely popular? If that's true, it's only because I'm the William Hung of journal writing. As I've said several times in the Journal, I only started this because I thought we were going to be out of the office for a couple of weeks. Had I thought there was the slightest possibility that I would have to come up with 500 entries, I would have spent my time nurturing a sourdough starter instead.
Still, my mistake has had some happy consequences. I've met some really wonderful people online. Some of them have helped me extend my car's warranty and saved my social security account from being shut down.  But all kidding aside, there is definitely a devoted Journal readership out there and even one guy who writes a funny story based on my entries every day! Crazy!
Q. What's up next that you're excited about?
Tom: There's so much that I'm excited about. Don Bentley's first Jack Ryan Jr book, Target Acquired just hit the Times list and the second book in his Matt Drake series, The Outside Man, is still selling. His third Drake book, Hostile Intent, is coming in May 2022. 
Mark Greaney has his next Gray Man novel, Sierra Six, coming in February 2022. That's always a treat. 
I've been wanting to work with Andrews and Wilson for the longest time, and we finally made it happen with the W.E.B. Griffin book, Rogue Agent, a continuation of his Presidential Agent series which we're pubbing in December 2021. 
Ron Corbett is an incredibly talented Canadian author who introduces Danny Barrett to the world in The Sweet Goodbye in April 2022 (The same week as my birthday.) The Feds have a thousand agents who can go undercover in the city or the suburbs but when they need someone to infiltrate a lumber camp or a wilderness guide business, Danny is the one agent they can call. It's a great hook for a series. 
And, I literally just bought The Handler by M.P. Woodward, a former Naval Intelligence officer. It's the first in a series about hard-driving CIA officer, Meredith Morris-Dale and her ex-husband, former CIA agent, John Dale. They're much better as handler and agent than they were as husband and wife. It's a fast-moving, intelligent novel that feels very real. 
Unfortunately, I've had to leave a lot of books off this list. There's not a single book on my list that I'm not excited about.